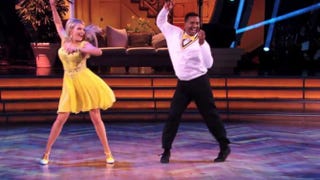 Alfonso Ribeiro has been giving his competition on Dancing With the Stars a run for their money. Ribeiro, a show favorite, has wowed the judges week after week, and yesterday he gave fans of the show what they've been waiting for when he performed his world-famous "Carlton" dance.
Ribeiro danced to Tom Jones' "It's Not Unusual," the same way he did on The Fresh Prince of Bel-Air.
"Carlton was someone I had a blast playing for six years," Ribeiro, 43, said in an interview for this week's episode of DWTS, which featured the theme "Most Memorable Year."
But he also said it stunted his career development. "I was pigeonholed as an actor based on that character," he said. "There were years when casting directors wouldn't call me because they felt like, 'Oh, well, he's Carlton, and that's not right for this role.'"
As for the dance that gets him all of the attention? He loves it: "I love the Carlton dance. I love how it makes people feel. I certainly don't do it a lot. But I love the fact that people have this nostalgic look at that dance," he said.