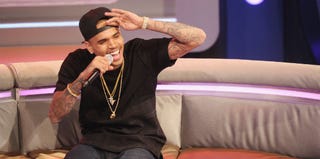 (The Root) — It looks like Chris Brown has had enough.
The embattled singer tweeted today that his next album may be his last before leaving the world of music. He prefaced the announcement with "Don't worry, mainstream America," apparently tired of his bad-boy reputation overshadowing his musical talent.
Don't worry mainstream America.After this X album, it'll probably be my last album.

— Chris Brown (@chrisbrown) August 6, 2013
Being famous is amazing when it's for ur music and talent. I'm tired of being famous for a mistake I made when i was 18. I'm cool & over it!

— Chris Brown (@chrisbrown) August 6, 2013
This all may be related to the 45 minutes he spent in jail last night after he turned himself in for a hit-and-run he is charged with committing in July. Today was the last day he had to turn himself in.
As expected, Brown's fans were sympathetic upon hearing the news, but his critics — not so much.
Tracy Clayton is a writer, humorist and blogger from Louisville, Ky.