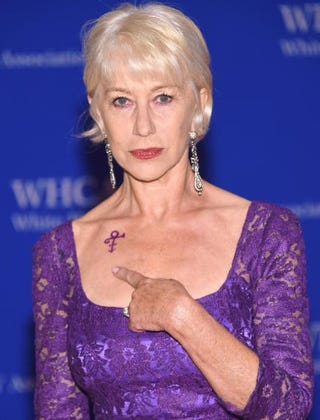 Dame Helen Mirren knows how to make a statement when she attends events in Washington, D.C. 
In 2005, while attending the Kennedy Center Honors, Mirren wore a white sweatshirt with "Help the People of New Orleans" written across it, shortly after Hurricane Katrina. And on Saturday, during the White House Correspondents' Association dinner, the award-winning actress knew exactly how to show her love for the late musician Prince.
Not only was she decked out in purple, but she also added a temporary Prince-symbol tattoo to her collarbone area.
"I admire great artists, and he was a great artist," Mirren told the Washington Post.
"I'd love to say that Prince himself did it in 1988 or something, instead of me in the bathroom this morning," she continued.
President Barack Obama called out Mirren during his speech at the dinner and said he was honored to be in her presence.