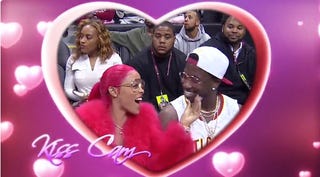 When the "kiss cam" at Tuesday night's Atlanta Hawks game landed on Gucci Mane and longtime girl Keyshia Ka'oir, the Ice Cream Man whipped out a rock befitting his name.
Gucci, who performed at the game's halftime show, was sitting next to Ka'oir in floor seats when he made his move. As Marvin Gaye's "Let's Get It On" played in the background, Guwop made his move. "That ring said 'brrrr,'" the Hawks announcer said, referencing the reported 25-carat diamond ring Ka'oir promptly put on after saying yes.
The Hawks released a video of the proposal on Twitter later that night.
The couple reportedly met in 2010 after Gucci spotted her in a magazine and asked her to be in his music video. She stuck with him through thick and thin, including a three-year stint in a federal penitentiary for gun and drug charges.
Mane, born Radric Davis, was released from prison in May.
Congrats to Keyshia and La Flare!
For more of black Twitter, check out The Chatterati on The Root and follow The Chatterati on Twitter.