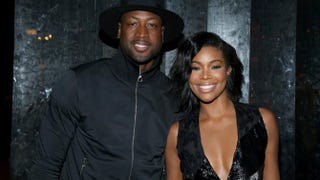 Gabrielle Union and Dwyane Wade have a passion that most people probably don't know about. On their new series, tentatively titled The Gabrielle Union and Dwyane Wade Project, the couple team up with the HGTV network to document them flipping homes.
"Follow along as they renovate, revitalize and resell a home in a suburban Florida neighborhood," the press release reads.
The couple seem pretty excited about their new series, with Union tweeting about it and Wade discussing it in an interview with the Sun Sentinel.
"I know it's not easy, but it's a good challenge to do it, and I want to see how it ends," Wade said.
The couple will tackle homes in the Florida area, and although the show doesn't have an airdate yet, Wade, who plays with the Miami Heat, said they plan to film once basketball season ends.