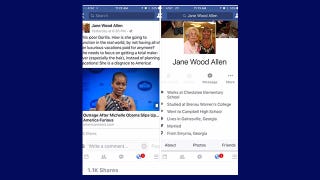 A Forsyth County, Ga., teacher is under investigation after posting to Facebook a photo of Michelle Obama and a comment in which she referred to the first lady as a gorilla.
Jane Wood Allen, a teacher at Chestatee Elementary School in Gainesville, Ga., posted a photo of the first lady, called her a gorilla and also made reference to all the money she spends on vacations. Sounds like a hater to me.
According to Jennifer Caracciolo, spokeswoman for the school district, the school's county officials were told about the Facebook posts Friday. Of course, Allen's Facebook page was deleted after the photos went viral.
"Our schools are closed for fall break this week. We have and will continue to address this issue with the employee next week," Caracciolo told Forsyth News. "Racism and discrimination are not tolerated in Forsyth County Schools."
Let's see how long it is before Allen is yet another racist without a job.