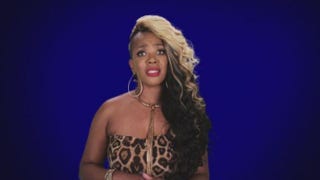 They say you can learn a lot from the Internet, and that includes learning you were expelled from your sorority. Former Sorority Sisters cast member Priyanka Banks was one of five members of Delta Sigma Theta who were permanently expelled from the sorority after appearing on the VH1 reality show. Lydia Mitchell, Metoya Monroe, Adrene Ashford and Shanna McCormick were expelled along with Banks on Founders Day, Jan. 13.
In an interview with the Atlanta Journal, Banks said she was shocked to find out about the expulsion. And even more shocked to find out on the Internet. "I found out through the Internet. It was shocking. I can't say I am hurt, because the organization is made up of people and people are hateful. I can't be surprised, but I was baffled," Banks stated.
So what are Banks' plans as a former member of Delta Sigma Theta? Well, to hear her tell it, she'll always be a Delta.
"At the end of the day, you can't take away my experiences as a Delta. Or what I know as a Delta. This piece of paper means nothing to me. You make those letters. They don't make you. I am going to keep my paraphernalia. Once a Delta, always a Delta. People are going to always know Priyanka is a Delta," the expelled member stated.
Yeah, but don't let anyone catch you wearing paraphernalia or merchandise with references to the sorority or participating in activities that indicate membership in the sorority, because the organization can pursue legal action.