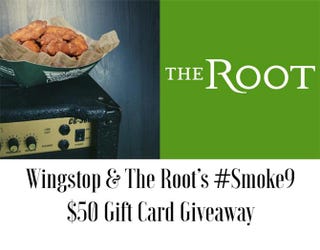 What's the best thing to eat while picking your NCAA brackets? Wings, of course!
The Root and Wingstop want to give your brackets a little more flavor! In honor of Wingstop's newest flavor, Smoke 9, we're giving away two $50 gift cards! That's right—not one, but two lucky readers will get a chance to win and try out the Smoke 9 flavor.
The new flavor is described as a mesquite dry rub with sweet garlic and spices that come together for a bold, smoky flavor. Smoke 9 falls between Hickory Smoked BBQ and Lemon Pepper on Wingstop's heat-flavor scale.
"Smoke 9 is named for the nine iterations we went through in order to perfect this flavor," explained Larry Bellah, Wingstop's director of flavor innovation. "Our fans love the Wingstop brand because of the bold, unique flavors we offer. So when we create a new sauce, we work hard to ensure it's authentic and different from anything else on our menu."
To enter the giveaway, simply follow the instructions in the entry box below. Winners will be announced at the end of the giveaway!