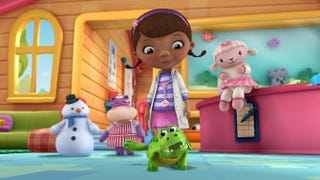 Doc McStuffins fans will be happy to know that the series isn't leaving the Disney Channel! Over the weekend, fans were outraged to find out the animated series wasn't included in the upcoming season's lineup. #RenewDocMcStuffins was a trending topic Saturday and Sunday, and people rallied behind the popular cartoon series. But there's good news!
According to a statement issued to TMZ, Doc McStuffins isn't going anywhere, and the show is in the middle of wrapping up production on season 4.
"We'll be delivering more Doc McStuffins episodes, beloved characters and great stories, for a long time to come," the statement read.
Here's to DocMcStuffins not going anywhere! Representation matters!