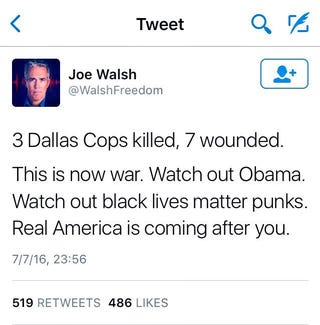 Former Illinois Rep. Joe Walsh declared, "This is now war" on President Barack Obama and the Black Lives Matter movement, after news broke about the Dallas sniper attack.
"This is now war. Watch out Obama. Watch out black lives matter punks. Real America is coming after you," he wrote in the post, which has since been deleted.
But many people believe that Walsh's comments were a threat against President Obama's life and are calling for authorities to step in:
https://twitter.com/chang_max/status/751278295946113025
After deleting his tweet, Walsh clarified what he was saying and called the shooters "uneducated black thugs" and blamed President Obama and the Black Lives Matter movement for the officers' deaths in Dallas.
"I wasn't calling for violence, against Obama or anyone. Obama's words and BLM's deeds have gotten cops killed," he tweeted.
According to reports, Dallas Police Chief Brown said the shooter informed cops he was acting alone and had no affiliation with any group.