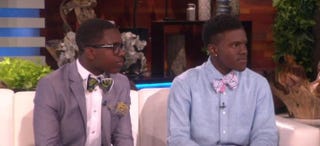 Viral dances come and go. First it was the Whip/Nae Nae, then it was something else, and now it's the Running Man Challenge. 
"I woke up and these guys—the Maryland basketball players—they did it," said Vincent.
Kevin Vincent and Jeremiah Hall, of Hillside, N.J, appeared on The Ellen DeGeneres Show and explained how the dance came about. Basically, they were bored in finance class. But the dance wouldn't have gone viral if not for University of Maryland basketball players Jared Nickens and Jaylen Brantley, who came across the video and uploaded their dance to Instagram.
And the rest is viral history.
Hall added: "And we were like, what? We made this!"
Ellen host Ellen DeGeneres presented the young men with $10,000 scholarships from Shutterfly. 
Congrats to these young men on getting their recognition on national TV and that money!