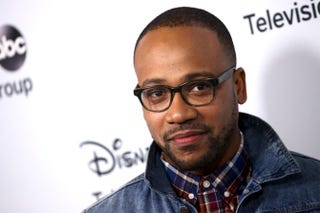 Columbus Short has missed yet another court date, and the Los Angeles District Attorney's Office has issued yet another bench warrant for his arrest. The former Scandal star was scheduled to appear in court on Monday for felony battery charges resulting from a restaurant fight in March.
In a statement to People magazine, a district attorney representative said, "He either shows up in court or he's arrested." Short's attorney, Michael Levin, says he was bumped from his Atlanta flight, which is why he didn't make his court appearance.
"I explained it to the court, and the court nonetheless issued the bench warrant for his arrest and raised the bail," Levin says. "He will be surrendering to the court at his earliest opportunity, and hopefully we'll get the matter corrected."
The victim in the March fight suffered a fractured left-eye socket, and if convicted, Short could face up to four years in jail. Short pleaded not guilty to the charges in May during his arraignment.