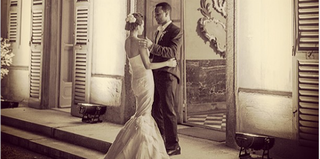 The day after their wedding, singer John Legend and model Chrissy Teigen shared a couple of breathtaking pictures from what seems to have been a beautiful ceremony.
Legend shared this shot on his account of him with his groomsmen, and Teigen posted a charming picture of the loving couple.
But the real winner was this picture of Teigen in her Vera Wang gown. The Daily News reports that the gown was one of three designed by Wang. Stunning!
Read more at the Daily News.
Tracy Clayton is a writer, humorist and blogger from Louisville, Ky.