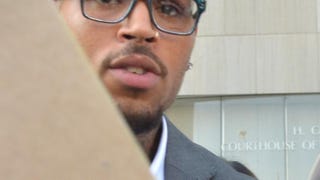 Chris Brown has one less worry in his life.  According to TMZ sources, Brown has settled his civil lawsuit stemming from an assault that occurred outside the W Hotel in Washington, D.C., last year.
Brown paid $100,000 to the victim in the assault case, which leaves him free and clear of any further liabilities. Earlier this year, Brown pleaded guilty to the simple assault and was sentenced to time served. Brown previously spent two days in a D.C. jail but ended up spending months in jail for his probation violation.
This isn't the first civil case Brown has settled this year. In addition to the $100,000, he also reportedly paid Frank Ocean's cousin a little less than $20,000 after being sued for $3 million for a parking lot fight.