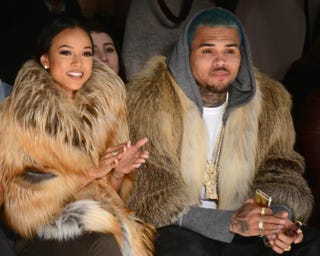 Someone pull out the congratulations cards, because it's being reported that Chris Brown is a father.
On Tuesday night, TMZ broke the story that Brown is the father to a 9-month-old daughter. Not too many details exist about the mother, Nia, besides the fact that she and Brown are friends and she's a former "model." By "model" I'm going to assume Instagram, not runway.
Brown hasn't confirmed the story himself, but to let TMZ tell it, he's on good terms with the child's mother. There's one person who's made it clear that she wants no part of being with the newly crowned R&B baby daddy, and that's Brown's on-again, off-again girlfriend, Karrueche Tran.
Tran tweeted the following:
https://twitter.com/karrueche/status/573142383048593408
Considering the unhealthy back-and-forth relationship she has with Brown, I'm not sure if her word is her bond.