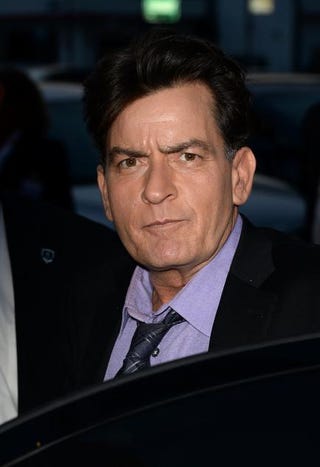 Charlie Sheen is alleged to be HIV-positive and reportedly will reveal his HIV status on Tuesday's Today show, according to People magazine. The 51-year-old actor and former star of Two and a Half Men is going public with his status because of threatened lawsuits from women who have had sex with him, TMZ reports.
NBC announced Sheen's upcoming appearance Monday afternoon and said that he was going to make "a revealing personal announcement" in an interview with Matt Lauer.
According to TMZ, Sheen has known about his status for over a year. In an interview with People, Sheen's former publicist Jeff Ballard seemed to have quit because of how Sheen was handling the situation.
"We had a disagreement how to handle a situation and we parted ways. We have had a 35-year friendship and I love him. I wish him nothing but the best," Ballard stated.
Sheen's expected revelation could have legal ramifications because of California's "willful exposure" law. According to the law, it is considered a felony punishable by up to eight years' imprisonment for an HIV-positive person to "willfully expose" another person to HIV through unprotected sex.