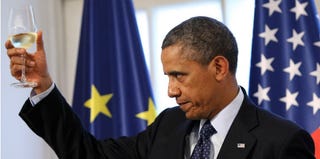 (The Root) — It's the president's birthday, and he's getting well wishes from everybody from your cousin Greg to Gladys Knight. Even Tavis Smiley hit pause on his bitterness long enough to wish him a happy birthday.
There was also a bit of electronic PDA from the first lady, which was just the cutest thing ever.
Elsewhere on the Internet, BET tweeted him a happy birthday wish but linked a picture of Wesley Snipes. Get it together, BET.
Check out some of Hollywood's presidential birthday wishes below.
Happy 52nd #Birthday, President @BarackObama!

— Jackée Harry (@JackeeHarry) August 4, 2013
Tracy Clayton is a writer, humorist and blogger from Louisville, Ky.