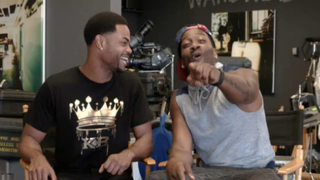 We get to see our favorite celebrities in true form again on Punk'd. 
The show is getting a reboot and will now air on BET every Tuesday at 10:30 p.m. 
Instead of Ashton Kutcher, comedians King Bach and DeStorm Powers will be the ones setting up crazy situations for celebrities to react to. 
They've already punked their first viewers. Viewers were lured to the site Tuesday with a headline saying that BET was bringing back Uncut, the raunchy show that showed music videos with half-naked women dancing around to crude songs. When viewers got to the page, they instead were met with a video promoting Punk'd. Check out a preview of Chris Brown getting punked below.
For more of black Twitter, check out The Chatterati on The Root and follow The Chatterati on Twitter.
Diana Ozemebhoya Eromosele is a staff writer at The Root and the founder and executive producer of Lectures to Beats, a Web series that features video interviews with scarily insightful people. Follow Lectures to Beats on Facebook and Twitter.
Like The Root on Facebook. Follow us on Twitter.