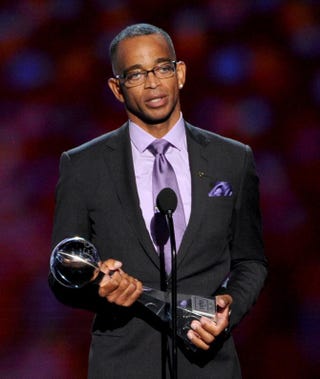 The sports and entertainment worlds were at a loss for words Sunday when news surfaced that the legendary Stuart Scott died after battling cancer. Scott had been part of the ESPN family for more than 21 years, and his presence will be missed.
"ESPN and everyone in the sports world have lost a true friend and a uniquely inspirational figure in Stuart Scott," said ESPN President John Skipper. "Who engages in mixed martial arts training in the midst of chemotherapy treatments? Who leaves a hospital procedure to return to the set? His energetic and unwavering devotion to his family and to his work while fighting the battle of his life left us in awe, and he leaves a void that can never be replaced."
In July Scott accepted an ESPY Award and gave one of the most poignant speeches of his career, a speech that emphasized his outlook on life. "When you die, it does not mean that you lose to cancer. You beat cancer by how you live, why you live and the manner in which you live," Scott stated.
After news of his death emerged, celebrities took to social media to remember the sports-news maestro and his impact on their lives.
https://twitter.com/blakegriffin32/status/551775940020146177https://twitter.com/michaelb4jordan/status/551787633672990720https://twitter.com/DwyaneWade/status/551772481762373632https://twitter.com/jemelehill/status/551766112887898113https://twitter.com/RGIII/status/551762930278998016https://twitter.com/KevinHart4real/status/551790611980763136https://twitter.com/JalenRose/status/551769399640612864
The legacy Scott leaves behind is incomparable and cannot be duplicated.