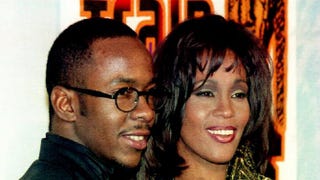 Over the weekend, the much-anticipated Whitney Houston biopic aired on the Lifetime network. Whitney, which chronicled the romance between Houston and her then-husband, Bobby Brown, was directed by Angela Bassett and placed her in the director's seat for the first time.
Although the show received its fair share of kudos as well as complaints as people tweeted away about it, one of the most interesting occurrences happened after the airing of the show.
In a special titled Bobby Brown: Remembering Whitney, Brown gave an enlightening interview about his relationship with Houston and spoke about the rumors of infidelity.
"Both of us cheated on each other, you know, period," the 45-year-old singer stated. "So that's hard to swallow for both of us. I just think when two people that love each other as much as we loved each other, when they start drifting apart, different people come into the situation, into the scenario, and we make mistakes. People make mistakes, we're human," Brown explained.
It was that tumultuousness about their relationship that Bassett wanted to highlight.
"Bobby was a fighter and loved Whitney to the end of time. He had the heart of a fighter. He loved and fought hard," Bassett stated in an exclusive interview with The Root. "I want people to see both of their perspectives. I want them to see the effect that loving the most popular woman of all time had on Bobby. Their relationship was loving but tumultuous. We all have issues. We either deal with them privately or publicly. And unfortunately, with a life in the spotlight, everything is public."
Check out the video above to see Brown speak candidly about his relationship with Houston.