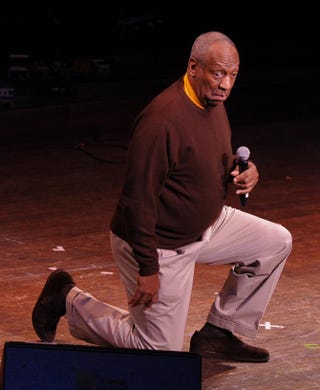 Bill Cosby's year ended shrouded in controversy and canceled shows, but that's not stopping his Canadian tour. Although many of his shows were canceled in the United States, the promoters behind his Canadian tour stated that they're not bowing out.
According to the Chicago Tribune, Innovation Arts & Entertainment released a statement saying that it understands its decision is unpopular, but it's contractually obligated to continue the shows and "would face crippling legal obstacles for violation."
Cosby will appear at the Centre in the Square in Kitchener, Ontario, on Jan. 7; at Budweiser Gardens in London, Ontario, on Jan. 8; and at Hamilton Place Theatre in Hamilton, Ontario, on Jan. 9.
Although the shows will go on, the London Abused Women's Centre plans to hold a protest. That doesn't faze the promoters.
"While it is disappointing for the need to worry about the theater being a place for planned protests, we are fully prepared to protect our audience," the statement by Innovation Arts & Entertainment read.
Megan Walker, executive director of the women's organization, didn't appreciate the promoter's statement. "There's an implication that somehow a peaceful protest is going to become violent when the violence we're concerned about is the violence that the women have alleged against Mr. Cosby," Walker said.
Since late 2014, more than 20 women have come forward with similar stories of being drugged and sexually assaulted by Cosby. Though Cosby has not released an official statement, his attorneys, wife and daughter emphatically refute the accusations.