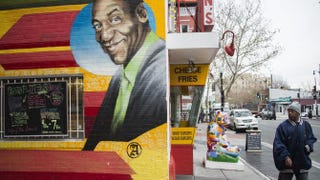 Bill Cosby hasn't lost all his fans amid the recent allegations of sexual assault and drugging by more than 20 women. Many of his fans are either reading this site or attended his most recent show in Turlock, Calif.
According to the Modesto Bee, only one protester was outside the Turlock Community Center, and when Cosby finished his set, he was given a standing ovation.
"It's sad. I am very disappointed there aren't more people. But someone has to stand up, so I came," said 51-year-old Turlock resident Suzette Sims. "I've done my research. I watched all of their interviews. I believe they can't all be lying. Anytime a woman comes forward, they are vilified by the world. So I want to say to them, 'I believe you.'"
Cosby's Turlock show was booked way before the allegations came to light (again), and most of those in attendance didn't want to vilify the comedian because no charges have officially been brought against him.
"He hasn't been found guilty of anything, and this is still America," said Wayne Stanfield, 45, who attended Sunday's show.
Cosby's next tour dates will take him to Sandusky, Ohio, and his tour will come to a close in Providence, R.I., in June.