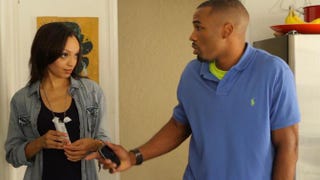 BET is partnering with Black&Sexy TV—an online content provider commonly referred to as the "Black Netflix"—to begin airing three of its Web series on the cable network, Variety reports. 
This is a big win for boutique and independent content providers on the Web. Companies like Black&Sexy TV cater to viewers who are willing to pay a subscription fee to watch diverse programming that isn't available at traditional TV and online outlets.
The three Black&Sexy TV series that will air on BET are RoomieLoverFriends, a series about the complicated relationship between two roommates who end up in bed together; Sexless, a series about female friends who are coping with their nonexistent sex lives; and Hello Cupid, a series about a chocolate-complexioned woman who uses a photo of a fairer-skinned black woman on her dating profile to see how men respond. All good stuff. 
Black&Sexy TV debuted in 2011. Viewers spend $7 a month to subscribe to its online content, which is also distributed on YouTube. 
RoomieLoverFriends premieres on BET Sept. 16 at 11 p.m. ET.
Diana Ozemebhoya Eromosele is a staff writer at The Root and the founder and executive producer of Lectures to Beats, a Web series that features video interviews with scarily insightful people. Follow Lectures to Beats on Facebook and Twitter.
For more of black Twitter, check out The Chatterati on The Root and follow The Chatterati on Twitter.