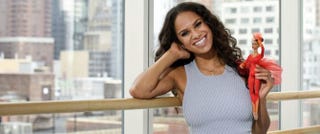 Misty Copeland has been immortalized by Mattel. The Barbie creator debuted its Misty Copeland doll Monday, and I'm sure that, just like Ava DuVernay's doll, it'll fly off the shelves.
The doll that honors Copeland, who made history when she became the first African-American woman to be named principal dancer at the world-renowned American Ballet Theatre, is just another step in Mattel's commitment to diversity and inclusion and part of its Sheroes Collection.
"I always dreamed of becoming an ABT ballerina, and through Barbie, I was able to play out those dreams early on," Copeland said in a press release. "It's an honor to be able to inspire the next generation of kids with my very own Barbie doll."
The Misty Copeland doll will is available for preorder on Amazon.com and Mattel's site.