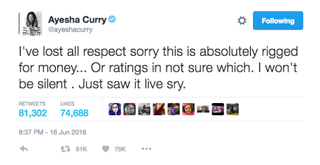 Last month, Ayesha Curry, in the heat of the moment, tweeted that she thought the NBA was rigged when her husband's team was losing.
Wrong thing to do.
Twitter immediately went in, and her mentions were in shambles.
Curry is now having some regrets about that tweet and probably wishes she had just put the phone down.
In an interview with People magazine, Curry spoke about that infamous tweet: "I was just a fan in that moment so I didn't think about the ramifications. I regret the way that I voiced how hurt I was."
"Since all this hoopla has happened, I have been a victim of reading the comments. It hurts my feelings because I didn't intend to hurt anybody," she continued. "I'm proud of my family and proud of the people around me. That's why I share our lives on social media."
Curry's Twitter drama isn't going to stop her from sharing things about her family, but she may just want to dial it back when it comes to critiquing the sport that pays her husband only when his team loses.