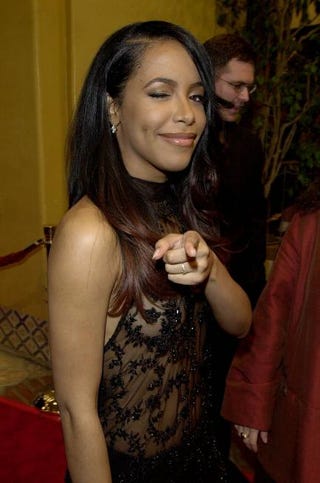 It seems like Aaliyah's family is about to give the folks at Lifetime a run for their money when it comes to biopics about the late singer. 
According to Sister2Sister, Barry Hankerson, Aaliyah's uncle and former manager, has tapped erotic-fiction writer Zane to pen the script for a feature film. The film is expected to hit theaters in 2015, while Lifetime's version will be shown only on the small screen. Singer B. Simone, who bears a resemblance to Aaliyah, has signed on to portray the "Rock the Boat" singer.
Lifetime's project has had its fair share of road bumps, including Zendaya Coleman dropping out of the film and threats of a lawsuit from Aaliyah's family. The family hope that people who see the Lifetime version, which will air later this year, will still head to the theaters to see their version of the story of her life.
Yesha Callahan is editor of The Grapevine and a staff writer at The Root. Follow her on Twitter.
Like The Root on Facebook. Follow us on Twitter.