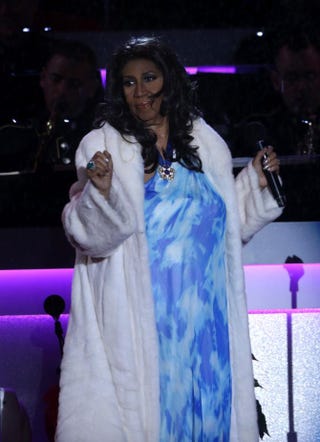 Aretha Franklin doesn't tolerate disrespect when it comes to her food, even if it's from one of her favorite burger joints. Franklin recently visited a Johnny Rockets restaurant in Niagara Falls, Ontario, and proceeded to sit down as she waited for her carryout meal.
That was when things went downhill.
In an interview with the New York Daily News, Franklin said she was approached by an employee of the restaurant and informed that seating was only for customers dining in and she wasn't allowed to sit there.
"I said, 'Excuse me, what do you mean I can't sit here?'" recalled Franklin.
Franklin then relented and told the employee she would eat in the restaurant—only to be denied the chance to sit once again. According to Franklin, the employee told her that not only could she not sit in the restaurant, because she was already registered as a carryout customer, but she also had to sit outside the restaurant, in the mall's food-court area.
"I got up and walked out," she said. "I said, 'You should eat it yourself and you pay for it.'"
Franklin said after that experience, she doesn't plan on dining at that Johnny Rockets location again.
According to the Associated Press, a Johnny Rockets representative said the franchise owner apologizes for the actions of "a new and very young employee." The unnamed employee has been briefed on the company's policies regarding carryout customers.  
Franklin told the Daily News that she doesn't think the employee should be fired but should be "spoken to." 
Yesha Callahan is editor of The Grapevine and a staff writer at The Root. Follow her on Twitter.
Like The Root on Facebook. Follow us on Twitter.