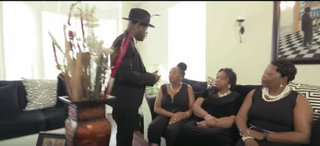 You may remember actor Tray Chaney from his role on HBO's The Wire as "Poot." He's currently on Bounce TV's series Saints and Sinners, along with Vanessa Bell Calloway. Not only is Chaney an actor, but he's also a rapper who makes music with a message.
Last year Chaney inspired students across the Maryland area to stay in school and strive for perfect attendance with his video "#Attendance," and now, in honor of mothers, he's released a touching video called "Love for You."
"I've always wanted to provide an anthem for women, mothers, ladies and queens, representing them with love and respect. Some familiar faces in the video include my grandmother, mom, sister and niece," Chaney tells The Root.
In the video, Chaney speaks about the love he has for all the hardworking mothers in his life and in others'. The video is a lovely ode to mothers, but it's also always good to see men recognizing just how amazing mothers are.
Kudos to Chaney for putting out such a positive message. The song is now available on iTunes.