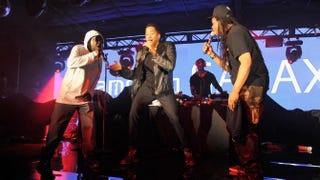 Hip-hop fans, rejoice! A Tribe Called Quest is heading to late night! In honor of the 25th anniversary of the group's debut album, People's Instinctive Travels and the Paths of Rhythm, Q-Tip, Phife Dawg, Ali Shaheed Muhammad and Jarobi White will perform Friday on The Tonight Show Starring Jimmy Fallon.
Fallon, who is a big fan of hip-hop and is backed by the legendary Roots crew, will definitely have his fair share of hip-hop fans viewing the show. ATCQ's appearance also coincides with the reissue of the album, with remixes from J. Cole, Raphael Saadiq, Pharrell and CeeLo. 
The group has sporadically performed together over the last couple of years. I had the pleasure of seeing them a few years back at Rock the Bells, and they also opened up for Kanye West during his Yeezus tour in 2013. 
Get your DVRs set, or plan on staying up late Friday, because you definitely don't want to miss out on some real hip-hop.