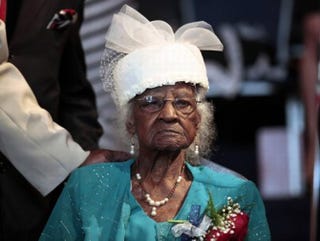 Jeralean Talley has probably seen a lot in her lifetime, and the stories she could tell would have a person listening for days. At 115 years old, Talley, of Inkster, Mich., is now the world's oldest living person, after the death of 116-year-old Gertrude Weaver.
Talley was born May 23, 1899, in Montrose, Ga., but has been living in the Michigan area since 1935.
What's Talley's secret to a long life? 
"It's coming from above," she said. "That's the best advice I can give you. It's not in my hands or your hands."
Talley's friends and family says she's still sharp despite her advanced age and even enjoys going on an annual fishing trip every year. Talley has also been recognized by the president. In 2013 President Barack Obama sent Talley a birthday card and said she was "part of an extraordinary generation."
During her interview with CBS Detroit, Talley had a few words of advice for everyone. "Treat the other fellow like you want to be treated. You don't tell a lie on me, so I won't tell a lie on you," she stated.