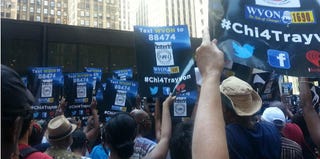 (The Root) — Chicago residents gathered in the city at Federal Plaza today in honor of Trayvon Martin. According to Chicago radio station WVON, the demonstration was organized to press the Department of Justice into bringing further charges against George Zimmerman, the man who shot Martin to death in Florida.
Hundreds turned out at the event, which featured speakers like MC Lyte and Jesse Jackson. Those at the rally shared it with the rest of the nation via social media, tweeting pictures and details of the happenings.
Tracy Clayton is a writer, humorist and blogger from Louisville, Ky.